Community Profile

Celebrate with Owls
Seasonal H/D Gift Giving Exchanges
Free Account
Created on 2017-04-07 14:52:54 (#2946124), last updated 2017-08-17 (5 weeks ago)
0 comments received
644 Journal Entries, 158 Tags, 0 Memories, 5 Icons

About
| | |
| --- | --- |
| Name: | Celebrate with Owls - Seasonal H/D Gift Giving Exc |
| Location: | London |
| Website: | AO3 Collection |
| Membership: | Open |
| Posting Access: | All Members |
| Community description: | Harry/Draco Winter Gift Exchange |
Contact Details:
hdowlpostmods
@
gmail.com

Mini Bio
hd_owlpost is hosting a H/D Gift Giving Fest in December 2017.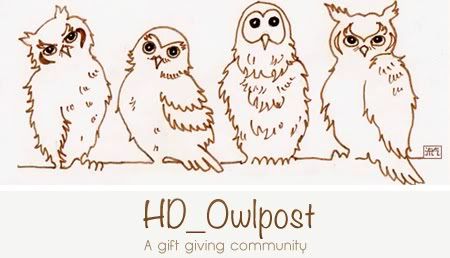 Original art by
leochi. Banner by
kayoko.

hd_owlpost Winter Fest is back again!
2016
Fest Announcement
(aka All the Rules)
Participants'
Wish Lists
Submission Information and Guidelines
AO3 Collection for the 2016
hd_owlpost
Fest:
Harry/Draco Owlpost 2016
.
Owl gifts are due
November 11
. We will start posting gifts on December 1.
-----
Welcome to the
hd_owlpost
!
A gift-giving community for Harry/Draco fans!
A place to help grant your friend's holiday wishes and have yours granted in return!

Guide to H/D Owl Post:
♥ Some posts in this community contain explicit adult content. All adult content is posted under an lj-cut. Minors are welcome to join the community but the moderators are not responsible for underage members. Please read at your own discretion and mind the ratings and warnings.
♥ Owl Post will be run in rounds to be held on specific holidays. Watch the comm for sign-up dates.
♥ Choose an owl and mail your Wish List including the complete form to hdowlpostmods [at] gmail [dot] com. Mods will post your Wish Lists to the comm.
♥ There will be no claiming nor will you be assigned a recipient. You may choose to make a gift for one or more recipients.
♥ You are encouraged to submit more than one gift. You may also choose to submit a gift to be given to all participants.
♥ Drabs, fics, art, icons, banners, fanvideos, poems, podfics, etc. are all acceptable forms of gifts. Anything that can be gifted!
♥ Harry/Draco must be the focus of the gift.
♥ Post your gift(s) as a comment to the participant's Wish List. Comments will be screened until they are revealed on the specific holiday.
♥ You may choose to submit your gifts anonymously. If this is the case, please contact a mod to let them know which gift is yours.

-----
Like this community? Please promote us!
Any questions, concerns, suggestions, etc can be emailed to hdowlpostmods@gmail.com.
----
Affiliates:
hd_erised
hd_writers
hd_storyroom
hd_cliche
Credits:
Art:
leochi
Layout:
wildflower4evr

Connect
art
,
christmas
,
draco
,
drarry
,
fic
,
gift giving
,
gifts
,
graphics
,
h/d
,
halloween
,
harry
,
harry potter
,
harry/draco
,
holidays
,
icons
,
owls
,
slash
,
valentines
, winter fest,
wish list
,
wish lists
, wishlist,
wishlists
,
yule
Administrators

Members (34):
adafrog
,
alafaye
,
aliciajd
,
alisanne
,
bbethable
,
carpemermaid
,
chocolate_frog
,
enchanted_jae
,
fantasyfiend09
,
felaine
,
felixfvlicis
,
germankitty
,
hpstrangelove
,
icicle33
,
kikimay
,
kitty_fic
,
kittyaugust
,
ldydark1
,
mommyconk
,
myrtali
,
naughtypeeves
,
palendrome
,
potteresque_ire
,
puppyhuskey
,
rubysilkensun
,
semperfiona
,
smirkingcat
,
stormy_end
,
themightyflynn
,
this_bloody_cat
,
tryslora
,
tsuj
,
vaysh11
,
vicki_rae

Subscribers (51):
adafrog
,
alafaye
,
aliciajd
,
alisanne
,
bbethable
,
carpemermaid
,
chantefable
,
cheshyre
,
chocolate_frog
,
delacourtings
,
dragontara
,
elikiros
,
enchanted_jae
,
eva667
,
fantasyfiend09
,
felaine
,
felixfvlicis
,
frekapoly
,
geinahop
,
germankitty
,
gracerene
,
harrypcttr
,
hpstrangelove
,
icicle33
,
jacdan67
,
jachelle0627
,
kerrilee
,
kitty_fic
,
kittyaugust
,
lazyspoons
,
ldydark1
,
lokifan
,
lyonessheart
,
malnpudl
,
mommyconk
,
mtl
,
myrtali
,
naughtypeeves
,
palendrome
,
pennynovelette
,
potteresque_ire
,
puppyhuskey
,
semperfiona
,
smirkingcat
,
stormy_end
,
themightyflynn
,
this_bloody_cat
,
tryslora
,
tsuj
,
vaysh11
,
vicki_rae

Linking
To link to this user, copy this code:
On Dreamwidth:
Elsewhere: